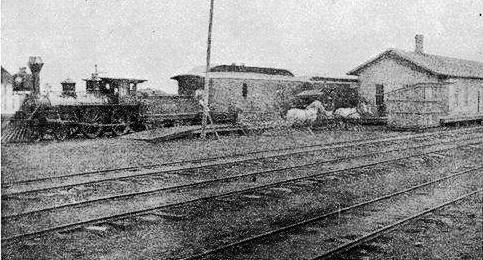 Today we take a look at the most important day in the history of Pella outside of its founding in 1847: The arrival of the Des Moines Valley Railroad (DMVR). Pella's future changed forever on Wednesday afternoon, December 28, 1864 when a passenger train pulled into South Pella's brand new railroad depot. Pella was finally connected to the rest of the country through a modern, timely means of transportation. It is difficult to overestimate what this rail connection meant to Pella. Raw materials and goods began pouring into the area; access to unlimited markets opened to farmers and manufacturers; passengers and travelers could conveniently access distant steamboats and railroads; correspondence could be sent and received quickly and inexpensively.
For the first 17 years of Pella's existence, transportation was chiefly provided by horses, either pulling wagons laden with freight, or coaches for mail and passengers. Fortuitously, Scholte had the foresight to locate Pella on the ridge running parallel between the Des Moines and Skunk Rivers. This ridge stretched all the way from Keokuk on the Mississippi River to Des Moines in the center of the state – a distance of some 140+ miles. A primitive "road" followed the ridge providing the primary means of transportation through this part of the state. With no bridges or alternate routes, travel and transportation to the center of the state was primarily funneled up this road.
The railroad was a long time in arriving in Pella. An initial attempt had been made to make the Des Moines River navigable for year-round steamboat traffic through an ambitious project that would have entailed a system of 37 locks and dams between Keokuk and Des Moines. When this project eventually collapsed with only a few locks and dams completed, attention was shifted to constructing a railroad along the north side of the Des Moines River valley. Rails were initially laid from Keokuk in 1857 and had reached Eddyville by 1861, when the Civil War caused a halt to construction. In 1864 construction was restarted and the railroad reached Oskaloosa in July and Pella in late December.
For over a year Pella remained the terminus of the Des Moines Valley Railroad. As such Pella had its own depot and even a roundhouse in which to rotate the engines to travel back to Keokuk. All the local railroad facilities were located in South Pella, near the current location of Heritage Lace on South Street. For ten years the DMVR was the only railroad in the county as well as being one of the first in central Iowa. As a result, merchants, farmers and passengers flocked from miles around to use the depot for travel and freight.
Seemingly overnight South Pella residences and businesses sprang up: hotels arose; stockyards appeared; lumber yards sprouted; prominent shipping and forwarding agents bought and sold farm commodities and implements. Business boomed and Pella flourished. It was nearly two years before the railroad reached Des Moines; until that time Pella was a regular destination location for farmers and merchants from as far away as Des Moines, Indianola and Winterset.
It was over ten years before another railroad came to Marion County and during that time Pella remained a major shipping center for much of Marion, Jasper and Mahaska counties. During that time Pella's population increased nearly 20% and South Pella's population went from essentially zero in 1854 to over 400 by 1875. In 1870, as a sign of South Pella's importance to the community, an overwhelming majority of Pella voters approved the annexing of South Pella and South East Pella.
The railroad had an immediate and long-lasting impact on Pella and single-handedly put South Pella on the map.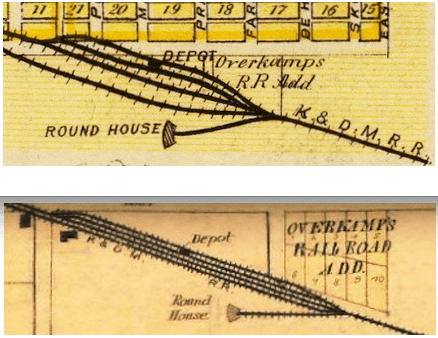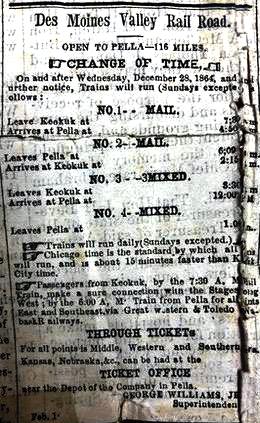 If the lettering is correct, then this would be a map of Pella some time after 11/11/1873 as that is when the Keokuk and Des Moines RR started running this line. That was after purchasing the line from the bankrupt Des Moines Valley RR. Was then leased to the CRI&P on 05/14/1887 and eventually sold to CRI&P on 08/18/1924. This was a  reply from D.G. Madden on our Facebook post.