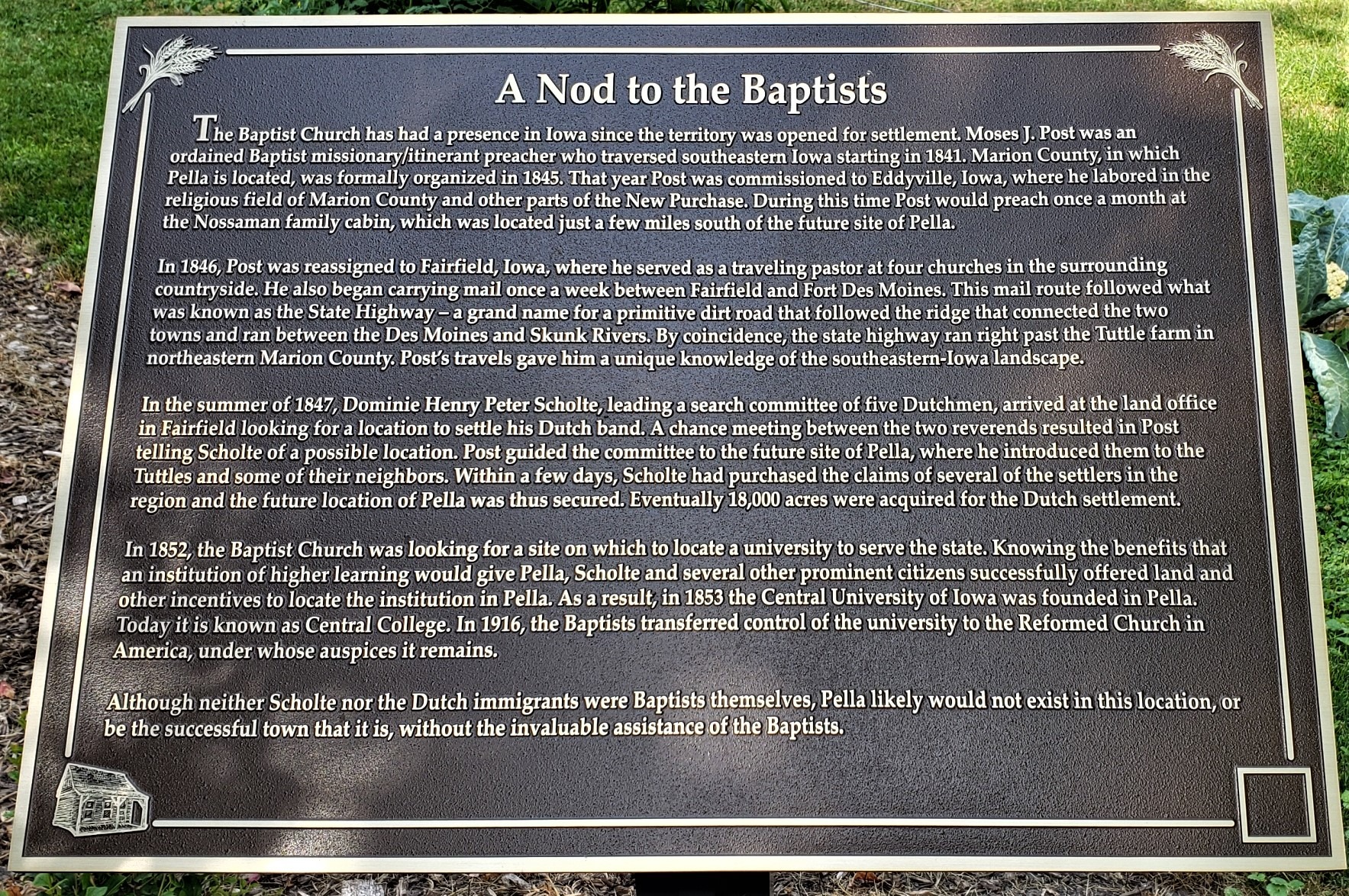 The Baptist Church has had a presence in Iowa since the territory was opened for settlement. Moses J. Post was an ordained Baptist missionary/itinerant preacher who traversed southeastern Iowa starting in 1841. Marion County, in which Pella is located, was formally organized in 1845. That year Post was commissioned to Eddyville, Iowa where he "labored in the field" of Marion County and other parts of the New Purchase. During this time Post would preach once a month at the Nossaman family cabin, which was located just a few miles south of the future site of Pella.
In 1846, Post was reassigned to Fairfield, Iowa where he served as a traveling pastor at four churches in the surrounding countryside. He also began carrying mail once a week between Fairfield and "Fort Desmoines". This mail route followed what was known as the State Highway – a grand name for a primitive dirt road that followed the ridge that connected the two towns and ran between the Des Moines and Skunk Rivers. By coincidence, the state highway ran right past the Tuttle farm in northeastern Marion County. Post's travels gave him a unique knowledge of the southeastern-Iowa landscape.
In the summer of 1847, Dominie Henry Peter Scholte, leading a search committee of five Dutchmen, arrived at the land office in Fairfield looking for a location to settle his Dutch band. A chance meeting between the two reverends resulted in Post telling Scholte of a possible location. Post guided the committee to the future site of Pella, where he introduced them to the Tuttles and some of their neighbors. Within a few days, Scholte had purchased the claims of several of the settlers in the region and the future location of Pella was thus secured. Eventually 18,000 acres were acquired for the Dutch settlement. 
In 1852, the Baptist Church was looking for a site on which to locate a university to serve the state. Knowing the benefits that an institution of higher learning would give Pella, Scholte and several other prominent citizens successfully offered land and other incentives to locate the institution in Pella. As a result, in 1853 the Central University of Iowa was founded in Pella. Today it is known as Central College. In 1916, the Baptists transferred control of the university to the Reformed Church in America, under whose auspices it remains.
Although neither Scholte nor the Dutch immigrants were Baptists themselves, Pella likely would not exist in this location, or be the successful town that it is, without the invaluable assistance of the Baptists.