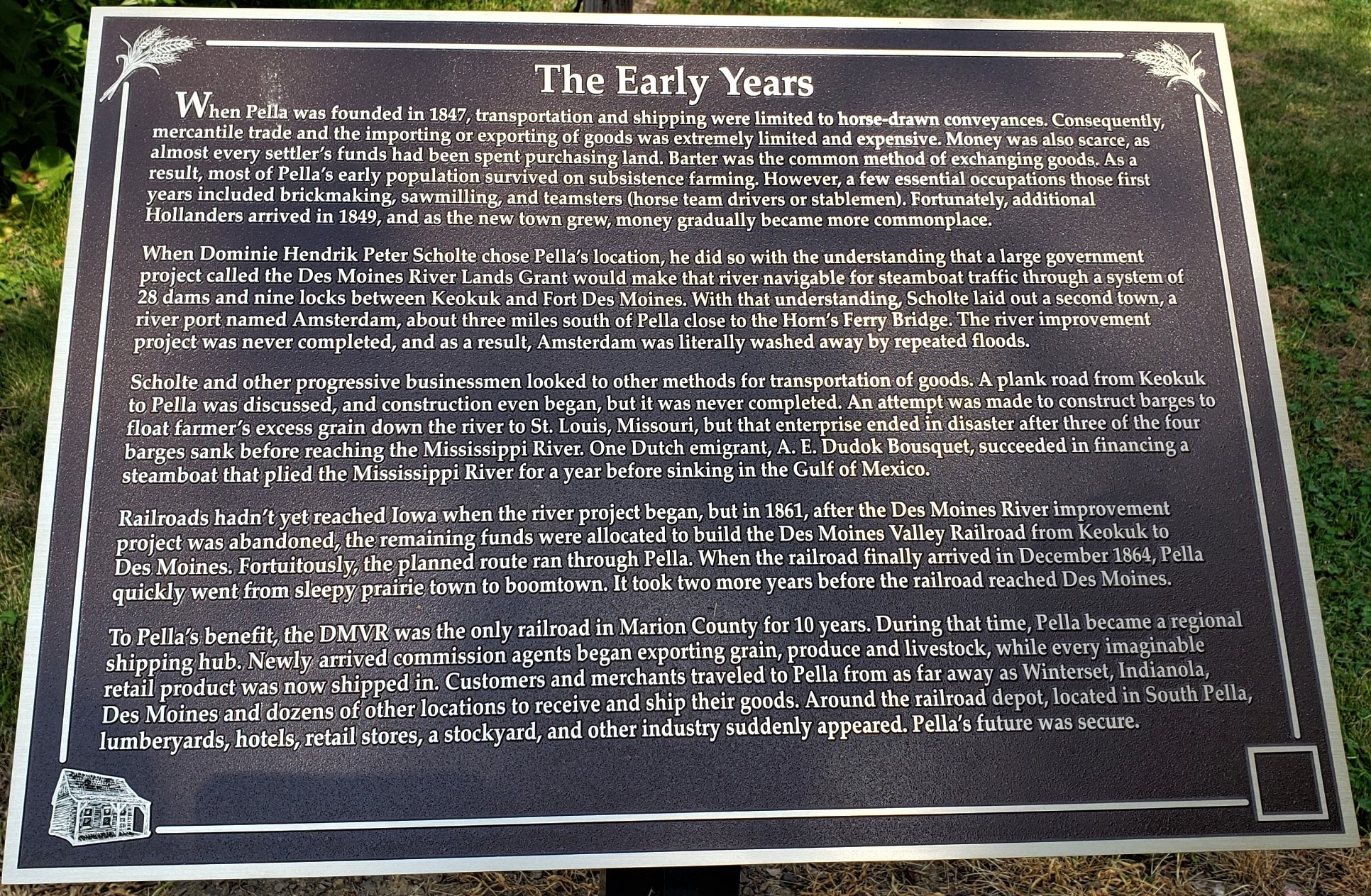 When Pella was founded in 1847, transportation and shipping were limited to horse-drawn conveyances. Consequently, mercantile trade and the importing or exporting of goods was extremely limited and expensive. Money was also scarce, as almost every settler's funds had been spent purchasing land. Barter was the common method of exchanging goods. As a result, most of Pella's early population survived on subsistence farming. However, a few essential occupations those first years included brickmaking, sawmilling, and teamsters (horse team drivers or stablemen). Fortunately, additional Hollanders arrived in 1849, and as the new town grew, money gradually became more common.
When Dominie Hendrik Peter Scholte chose Pella's location, he did so with the understanding that a large government project called the Des Moines River Lands Grant would make that river navigable for steamboat traffic through a system of 28 dams and nine locks between Keokuk and Fort Des Moines. With that understanding, Scholte laid out a second town, a river port named Amsterdam, about three miles south of Pella close to the Horn's Ferry Bridge. The river improvement project was never completed, and as a result, Amsterdam was literally washed away by repeated floods.
Scholte and other progressive businessmen looked to other methods for transportation of goods. A plank road from Keokuk to Pella was discussed, and construction even began, but it was never completed. An attempt was made to construct barges to float farmer's excess grain down the river to St. Louis, Missouri, but that enterprise ended in disaster after three of the four barges sank before reaching the Mississippi River. One Dutch emigrant, A. E. Dudok Bousquet, succeeded in financing a steamboat that plied the Mississippi River for a year before sinking in the Gulf of Mexico.
Railroads hadn't yet reached Iowa when the river project began, but in 1861, after the Des Moines River improvement project was abandoned, the remaining funds were allocated to build the Des Moines Valley Railroad from Keokuk to Des Moines. Fortuitously, the planned route ran through Pella. When the railroad finally arrived in December 1864, Pella quickly went from sleepy prairie town to boomtown. It took two more years before the railroad reached Des Moines. To Pella's benefit, the DMVR was the only railroad in Marion County for 10 years. During that time, Pella became a regional shipping hub. Newly-arrived commission agents began exporting grain, produce and livestock, while every imaginable retail product was now shipped in. Customers and merchants traveled to Pella from as far away as Winterset, Indianola, Des Moines and dozens of other locations to receive and ship their goods.
Around the railroad depot, located in South Pella, lumberyards, hotels, retail stores, a stockyard, and other industry suddenly appeared. Pella's future was secure.