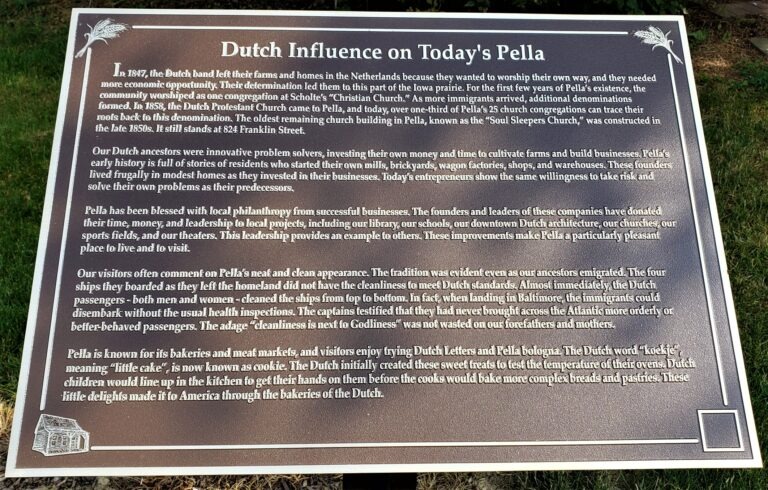 Charity and Philanthropy
Pella's approach to charity and philanthropy is a clear reflection of our Dutch legacy. During the early immigration, the wealthy among the Dutch band helped others financially, but in the form of loans. These were expected to be repaid after the borrowers had established themselves in the new world. We see a distinctive combination of strong willingness to help directly and not wait for the government or someone else to do something. At the same time there is a strong hesitancy to help those who can help themselves. Two of our local organizations, Crossroads and The Well, demonstrate this every day with their strong emphasis on helping the needy to help themselves.
Education
The Dutch had a high regard for education. After immigration they immediately resumed the process of training their young people in 1848, 6 months after arriving. The earliest classes here were held in a combination church, meeting house and school. Our first dedicated school building, Park School, was a 2-story brick building constructed in in 1855 on the 800 block of Franklin Street. High school classes were started in 1875 with the opening of Webster school on Main Street. The Baptists founded Central College in Pella in 1853 with the encouragement of our founders. Today Pella offers K-12 classes in both our public school system and our Christian School system. Both of these systems excel in their academics, music, theater and athletic activities. Central University is a highly regarded 4-year institution located in Pella with about 1400 fulltime students.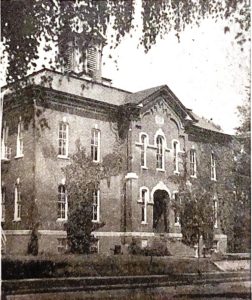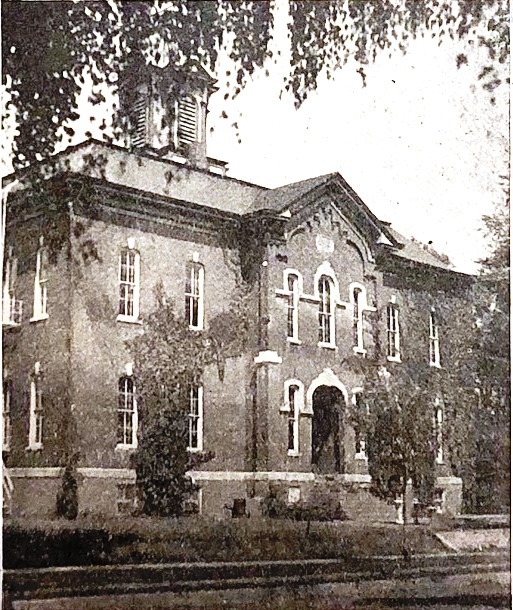 Dutch Influence on Today's Pella
In 1847, the Dutch band left their farms and homes in the Netherlands because they wanted to worship their own way, and they needed more economic opportunity. Their determination led them to this part of the Iowa prairie. For the first few years of Pella's existence, the community worshiped as one congregation at Scholte's "Christian Church." As more immigrants arrived, additional denominations formed. In 1858, the Dutch Protestant Church came to Pella, and today, over one-third of Pella's 25 church congregations can trace their roots back to this denomination. The oldest remaining church building in Pella, known as the "Soul Sleepers Church," was constructed in the late 1850s. It still stands at 824 Franklin Street. 
Our Dutch ancestors were innovative problem solvers, investing their own money and time to cultivate farms and build businesses. Pella's early history is full of stories of residents who started their own mills, brickyards, wagon factories, shops, and warehouses. These founders lived frugally in modest homes as they invested in their businesses. Today's entrepreneurs show the same willingness to take risk and solve their own problems as their predecessors.
Pella has been blessed with local philanthropy from successful businesses. The founders and leaders of these companies have donated their time, money, and leadership to local projects, including our library, our schools, our downtown Dutch architecture, our churches, our sports fields, and our theaters. This leadership provides an example to others. These improvements make Pella a particularly pleasant place to live and to visit.
Our visitors often comment on Pella's neat and clean appearance. The tradition was evident even as our ancestors emigrated. The four ships they boarded as they left the homeland did not have the cleanliness to meet Dutch standards. Almost immediately, the Dutch passengers – both men and women – cleaned the ships from top to bottom. In fact, when landing in Baltimore, the immigrants could disembark without the usual health inspections. The captains testified that they had never brought across the Atlantic more orderly or better-behaved passengers. The adage "cleanliness is next to Godliness" was not wasted on our forefathers and mothers.
Pella is known for its bakeries and meat markets, and visitors enjoy trying Dutch Letters and Pella bologna. The Dutch word "koekje", meaning "little cake", is now known as cookie. The Dutch initially created these sweet treats to test the temperature of their ovens. Dutch children would line up in the kitchen to get their hands on them before the cooks would bake more complex breads and pastries. These little delights made it to America through the bakeries of the Dutch.
Churches of Early Pella
more information to come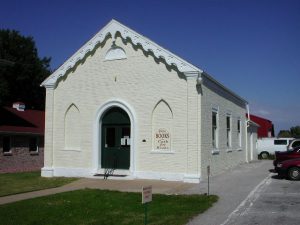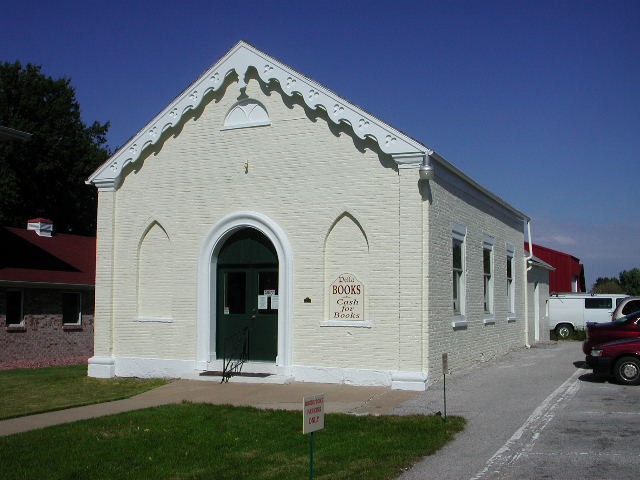 Early Businesses
 Don't Ask for Help, We Can Do This Ourselves; It's about self-sufficiency, self-confidence and thrift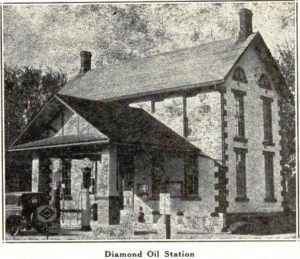 Pella as an Early Railhead
More to come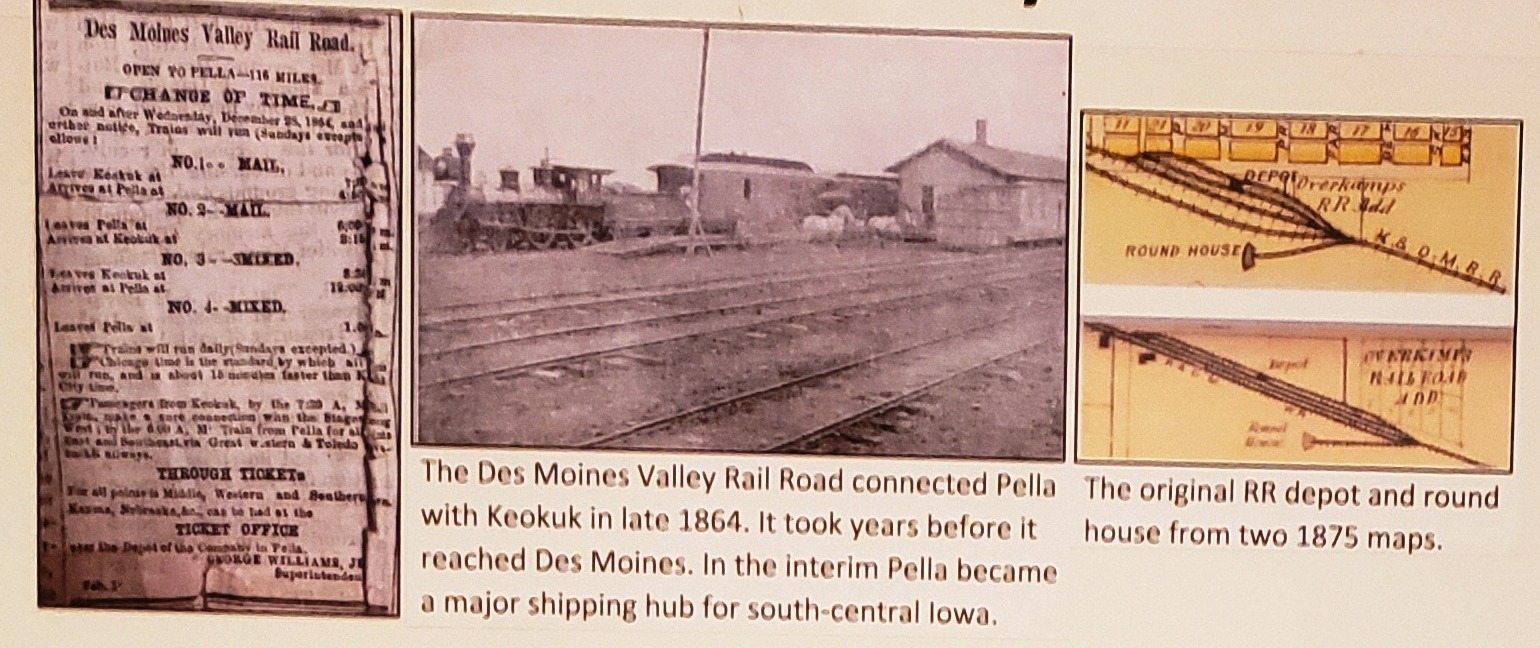 Pella as a River Port
– New Amsterdam – Even with vision and planning, some projects didn't work out.
– More to be added.