A visit review;  by Jennifer VanKooten,   Executive Director, Historic Pella Trust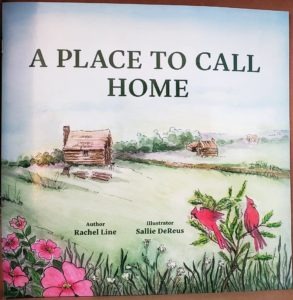 The book, A Place To Call Home is about a family who emigrated from the Netherlands in 1847, along with almost 800 Hollanders following H.P. Scholte.
They needed shelter when arriving to the prairie that is now Pella. The emigrants dug holes in the sides of hill to make a quick shelter instead of sleeping under their wagon.
This gave them shelter until they had time to build a log cabin on their homestead.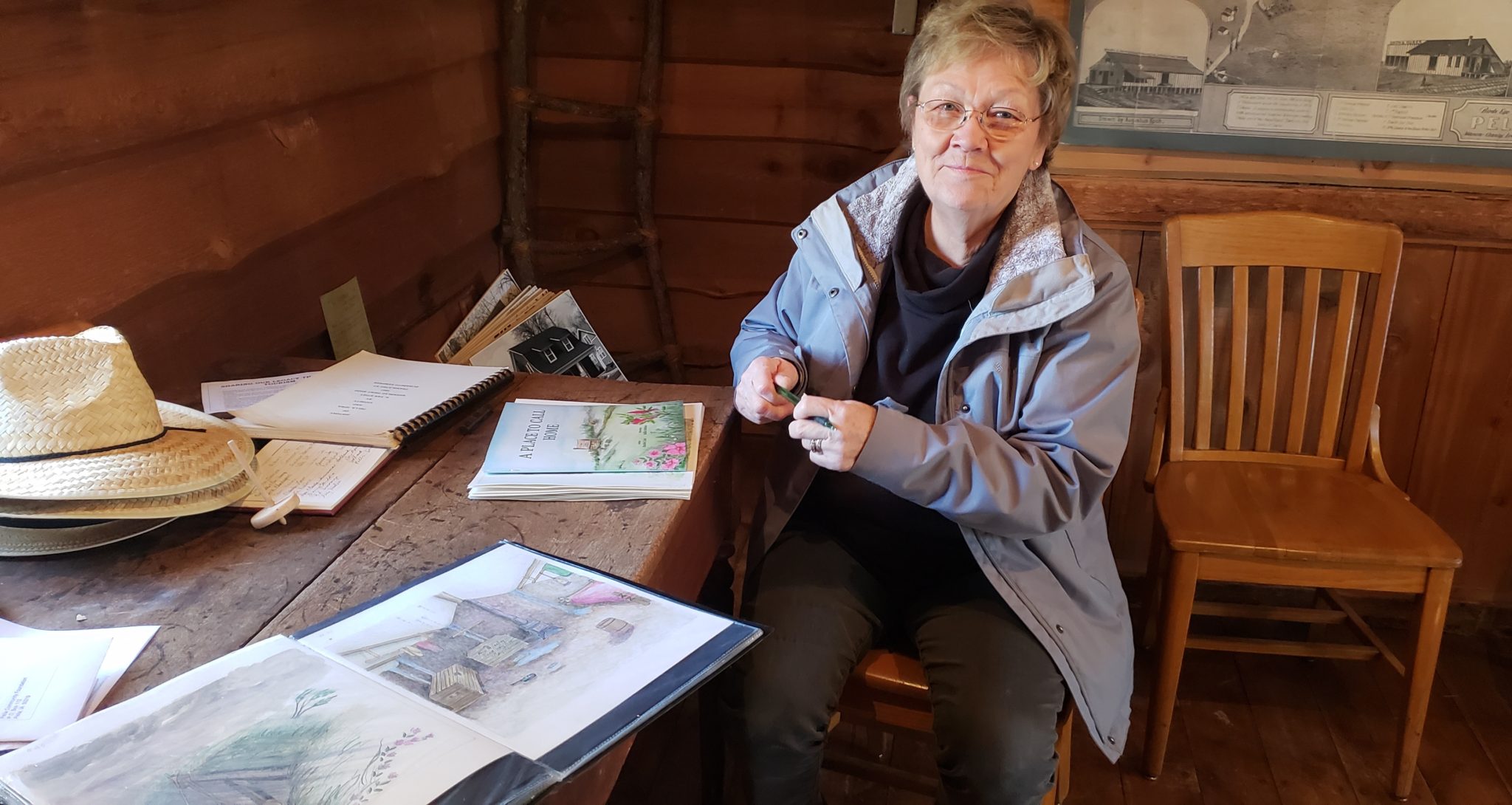 The book is illustrated by Sallie DeReus, a lifetime resident of the rural Pella area. She used watercolor pencils on the illustrations, an art medium she has not used very often.  Sallie has a Bachelor of Science in Applied Art and has done intense study in the art of Hindeloopen folk art.  You will find her artwork throughout our community on store fronts and in the museum.
Below is a YouTube link with Sallie talking about painting wooden shoes.  This video will show you Hindeloopen folkart.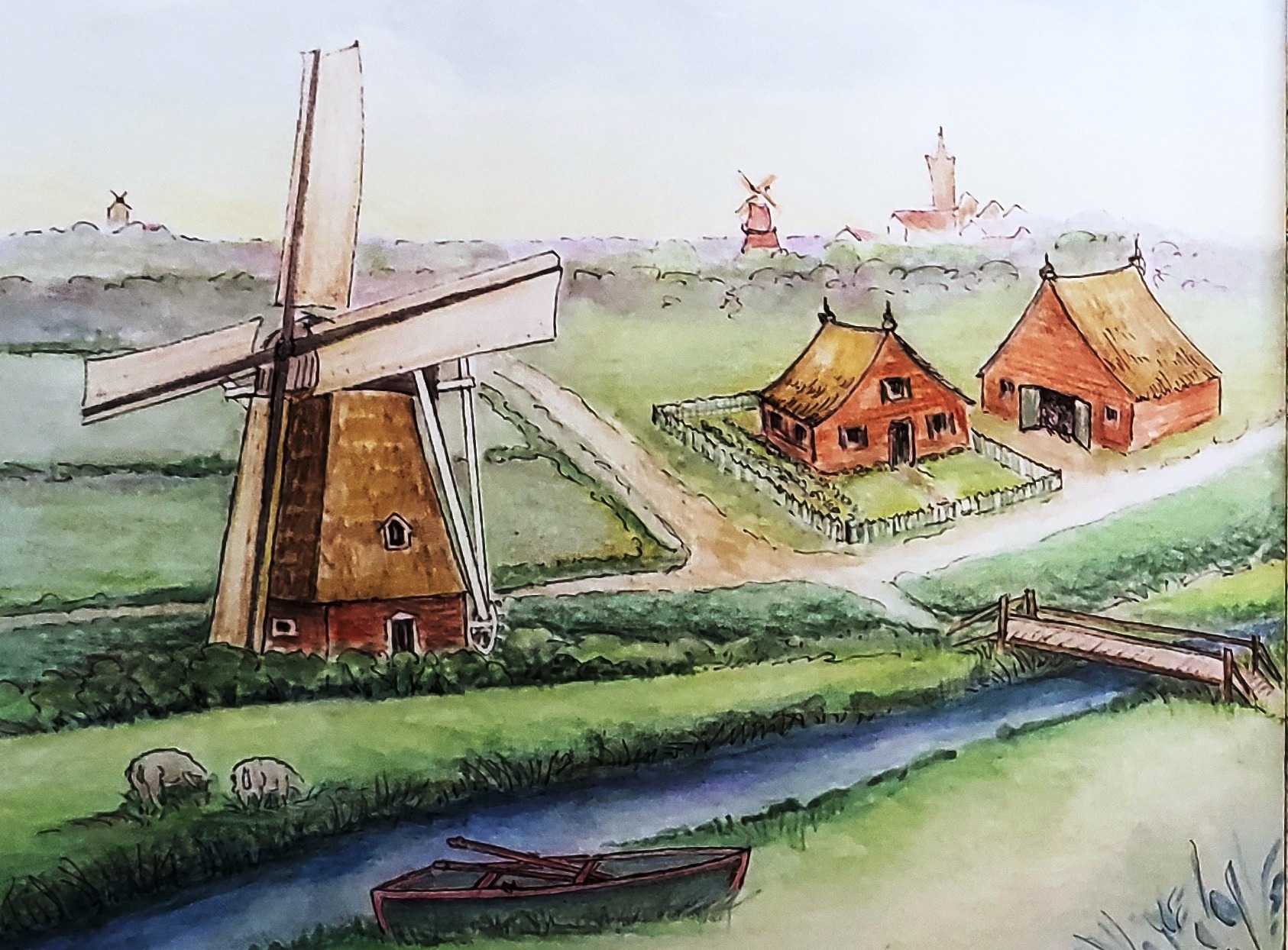 I purchased this children's book in the Pella Historical Village gift shop by the Vermeer Windmill.
What attracted me to the book first was the artwork.  It was colorful and very detailed. 
I didn't buy it on my first trip, it was $12 and I am 100% Dutch, I had to ponder investing that much in a child's paperback book. It stayed on my mind for most of a month. 
I decided it  was a good story to go along with the Tuttle Cabin educational program. I went back, looked at the book one more time and happily bought it. It is a wonderful story for young and old to enjoy about our heritage. I plan to buy several more for gifts. 
I asked Sallie if the original illustrations to the book were large enough for a group of people to enjoy. I was thinking that reading the story out loud to visitors would be fun.
  Much to my surprise Sallie came to Tuttle Cabin to show me the original illustrations and tell me more details about each page that could easily be missed!
We had a wonderful visit, and a chance to compare the story of Thomas and Nancy Tuttle, one of the first pioneer couples to homestead in Pella, to that of the Dutch families arriving to Pella after the Tuttle's sold it to Domine Scholte.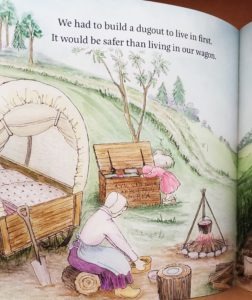 The details in the book are so informative and presented in a way that makes studying the picture a learning activity beyond the written words!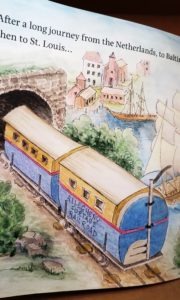 The Scholte led Hollanders sailed to America on four ships to Baltimore, Maryland. Every emigrant came to the mainland in a crowded  port train car.  
They first went to St. Louis, then up the Mississippi River by steamship. From there they came by covered wagon to a rich prairie that Scholte named Pella, Iowa. 

Dutch words are integrated throughout the book. I googled them to be sure I could pronounce them correctly.  This is a fun way to learn a few Dutch words.  Many of the Pella settlers had to learn English after they arrived.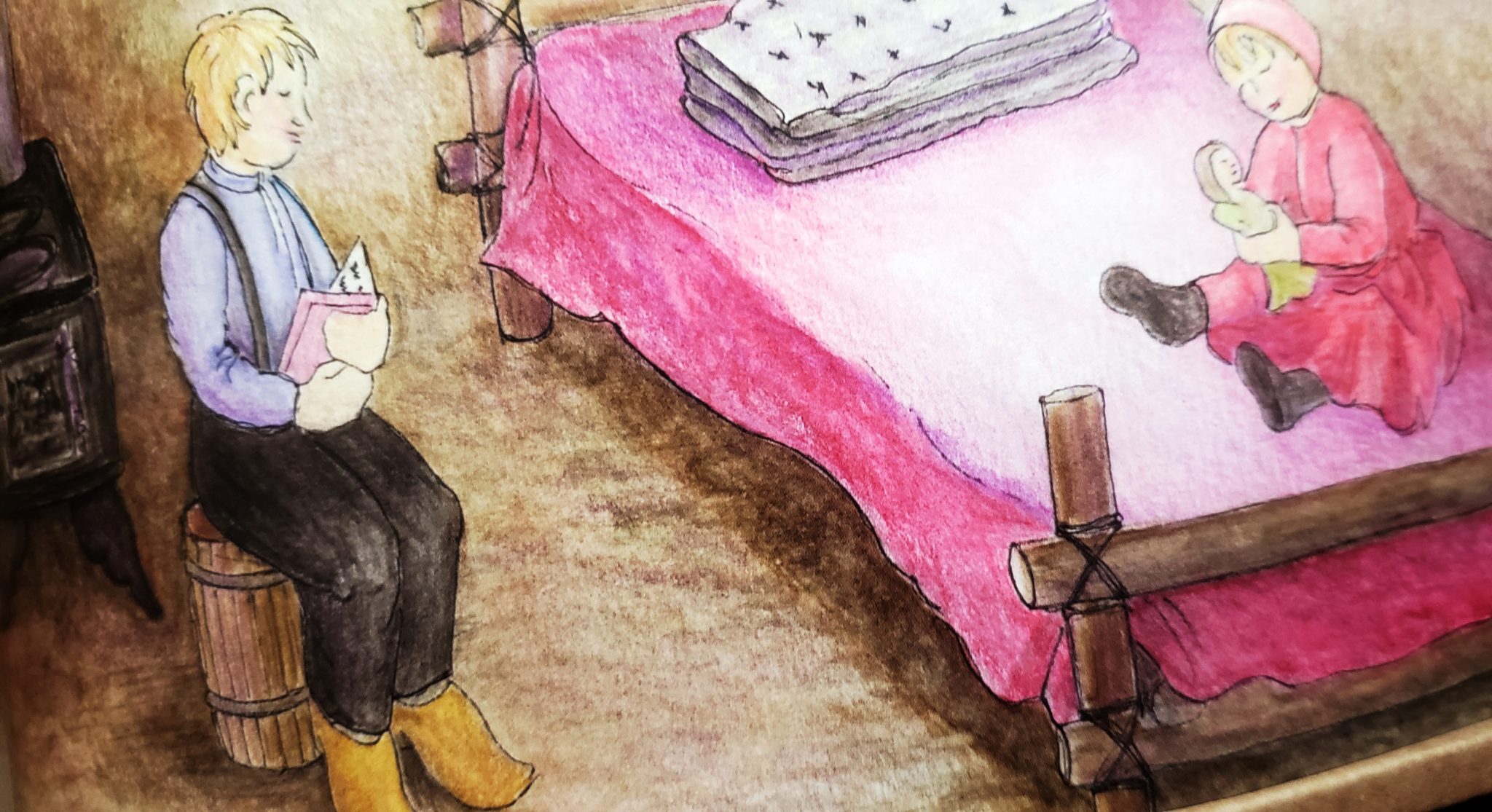 I  noted that the hand forged blacksmith hardware was featured on the trunk;  as a blacksmith artist I caught this detail immediately.  Sallie pointed out that the bed and buildings are lashed together with  cub scout rope lashings. She remembered that tying knots was an important activity in scouts. These heritage skills are still useful in our lives today and should be taught or at least pointed out why this skill was useful. 
The dug out has a canvas fabric on the ceiling that came from their covered wagon. It was common for the pioneers to use the canvas from the wagon as a temporary shelter to hold back the rain.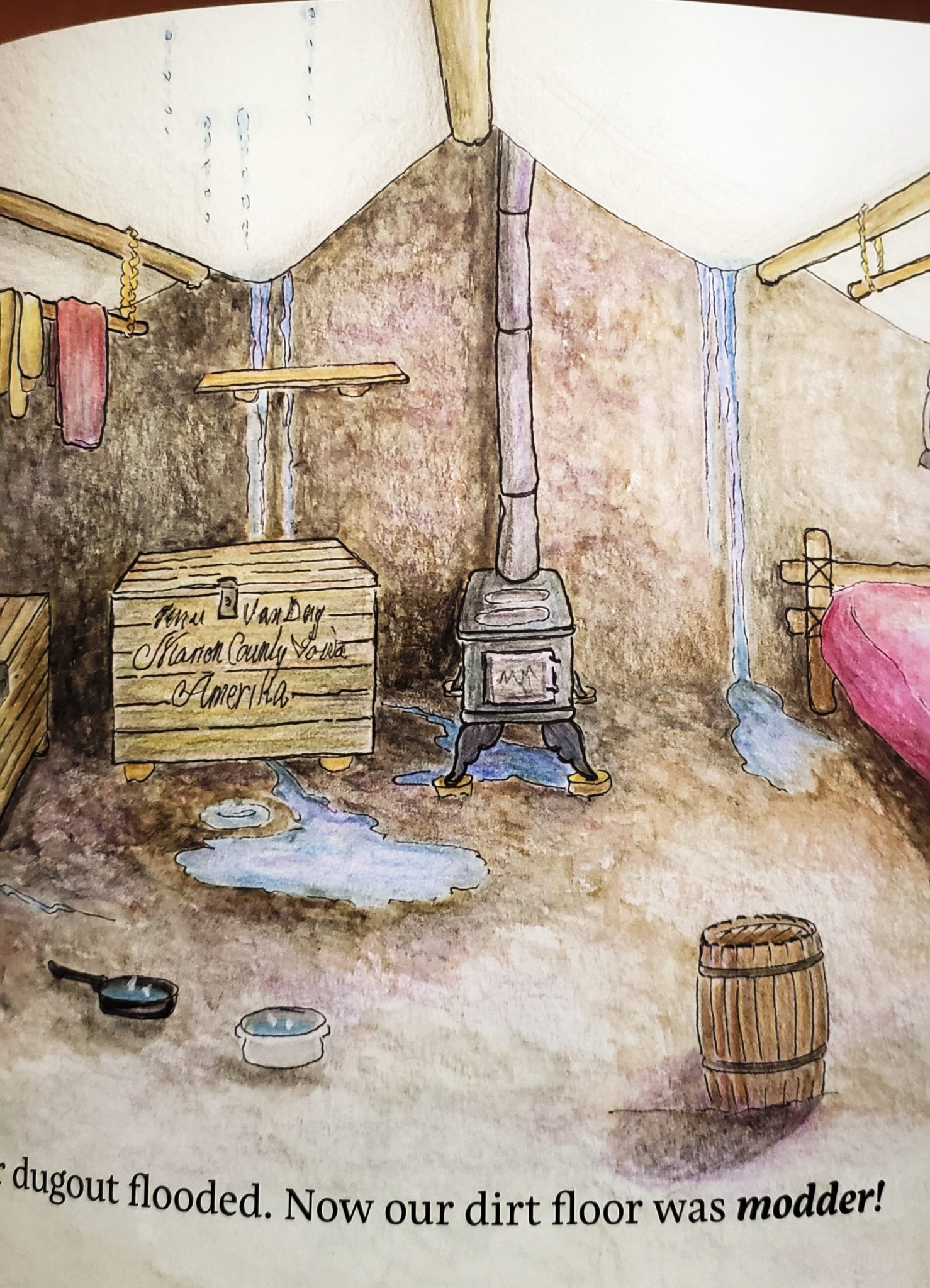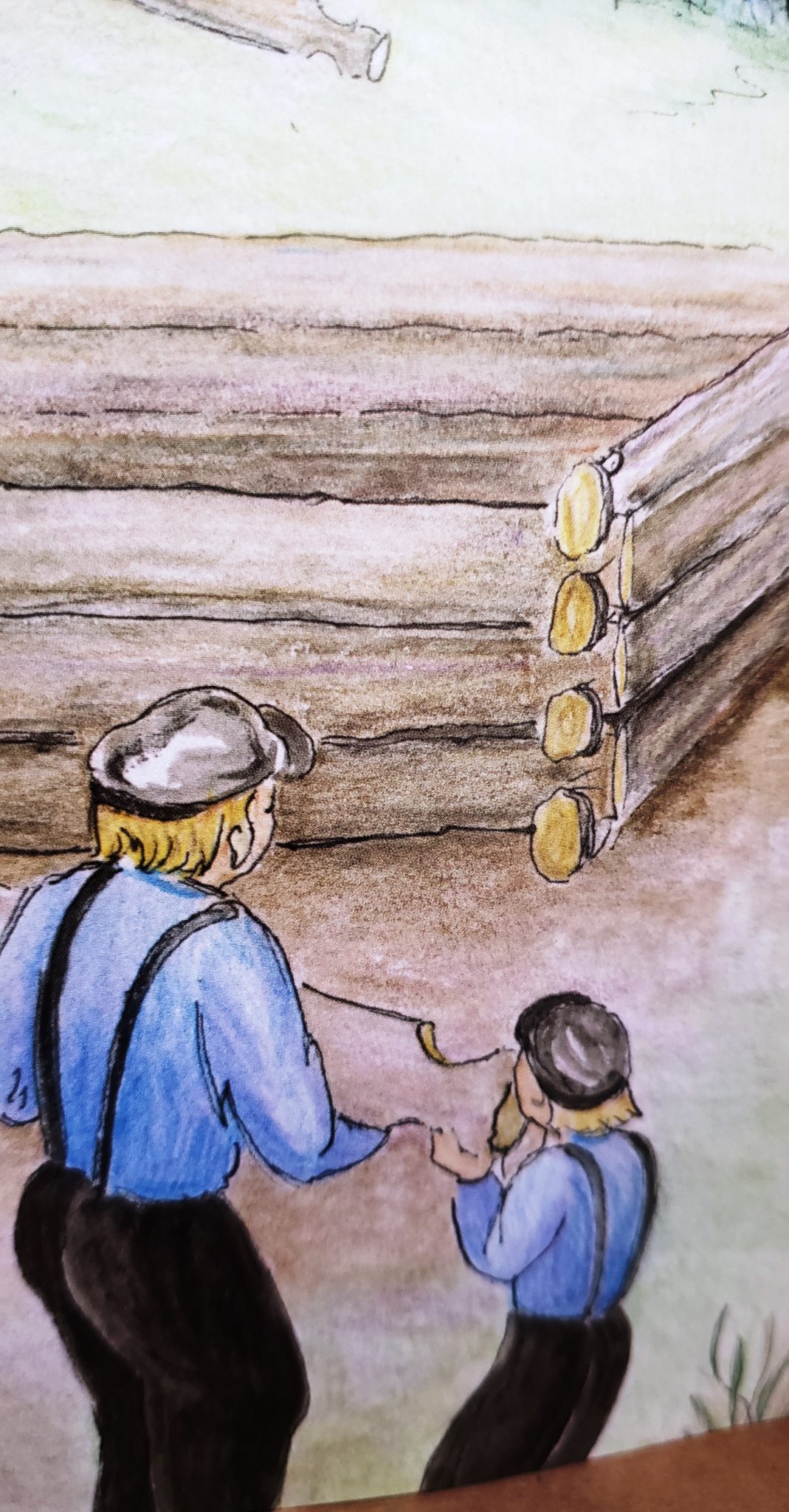 The family looked forward to building a log cabin (blokhut).
They began cutting down trees and in the spring and preparing the lumber. 
In the book they built a single-pen log cabin. similar to Tuttle Cabin. 
The book features team work and the tools used to prepare and lift the logs. It also shows the neighbors coming to help with the notching and fitting the logs together. 
We point out these construction details when we have visitors to Tuttle. The Tuttle's didn't have children or close neighbors in 1843, they had to do all of these steps as a couple.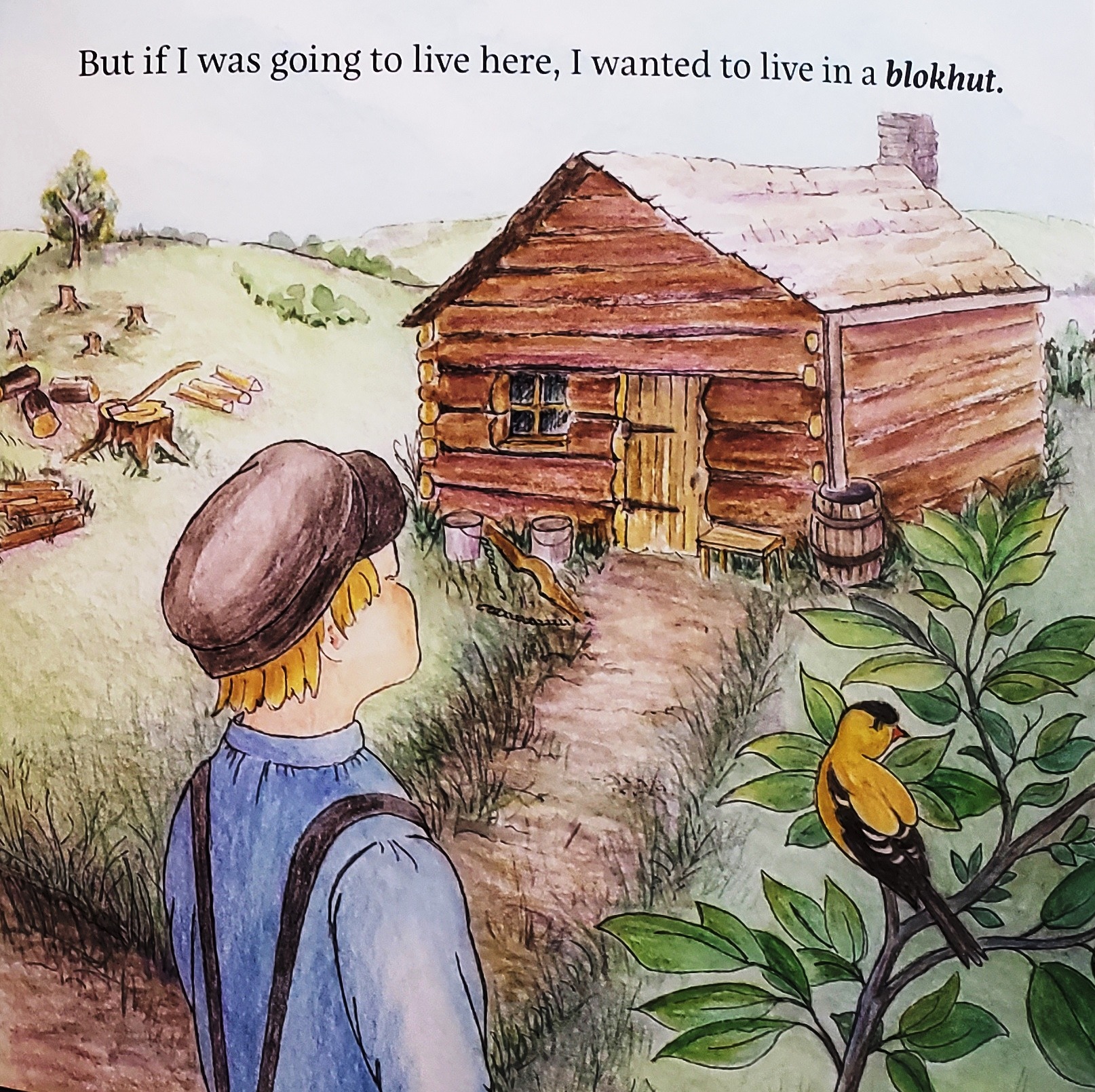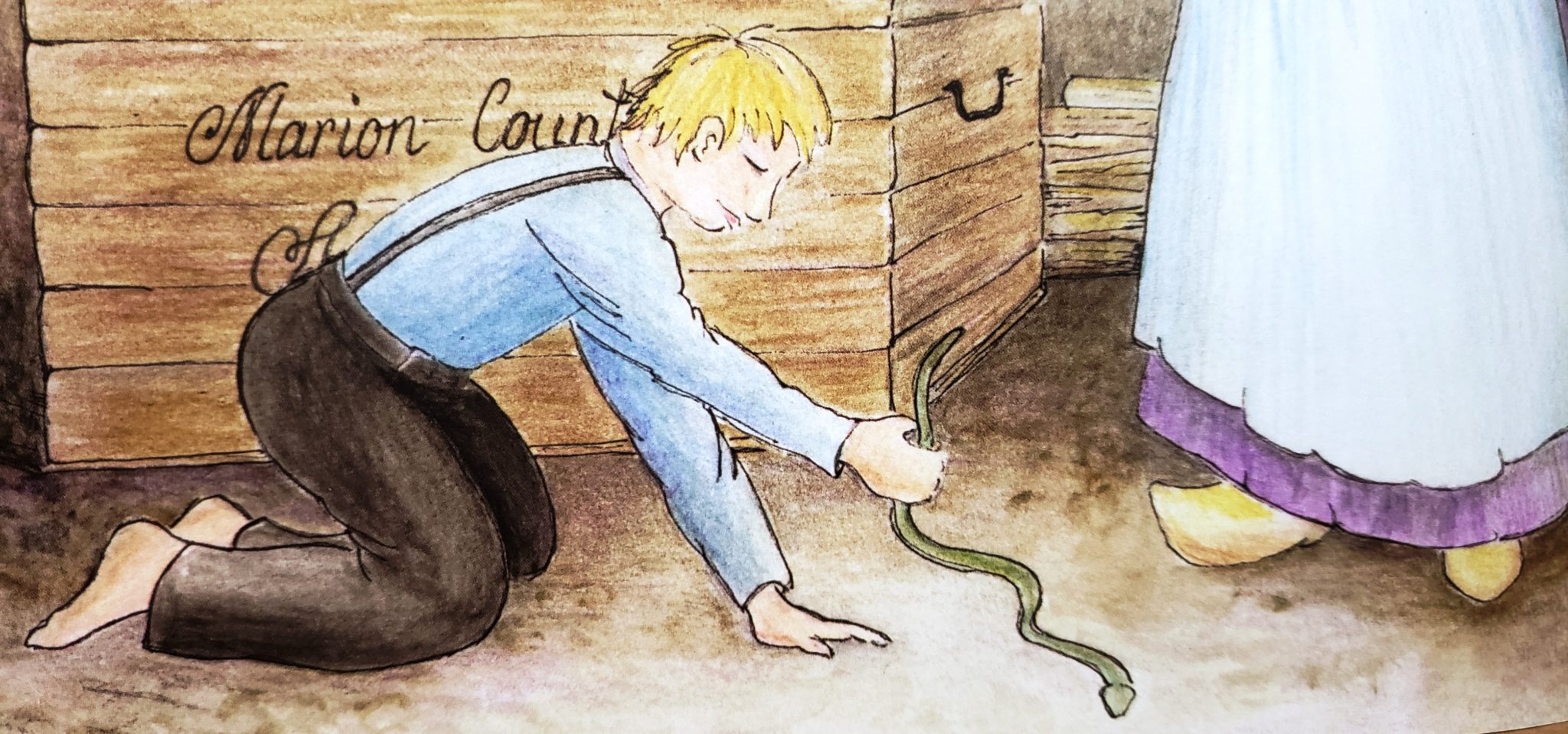 The book also teaches compassion towards  living creatures, because instead of killing the snake that was in the house they save it. They mention that it eats the rodents and then carefully set it outside.
This kind of compassion doesn't come naturally for me.  I believe it is a learned behavior and I am thankful the book sets an example.
I remember when a park ranger once removed a bug from my son's back and carried it outside to let it go.    That bug was in extreme danger from me; "the mother bear protecting her cub"! After that example set,  I grew in compassion for these tiny living creatures and patience not to immediately smash bugs. If we set an example like above,  then we may cause people to think before reacting.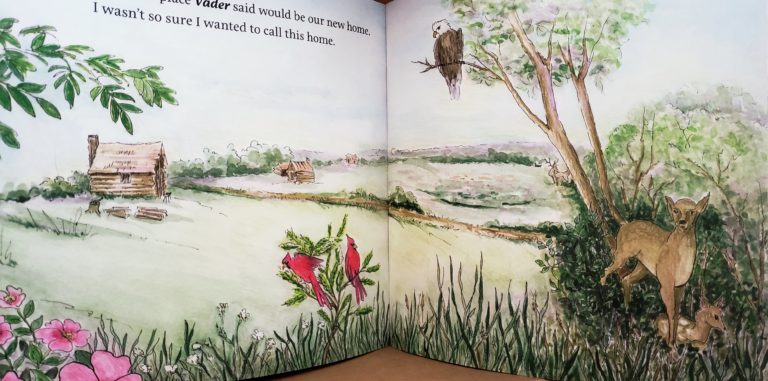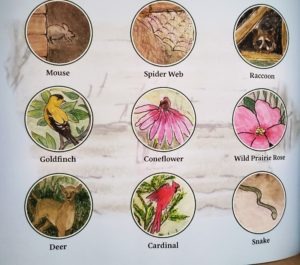 The pages have many examples of Iowa wildlife and plants like the State flower the wild rose.
In the back of the book there  are pictures encouraging you to look at the book again to find and identify them.  With my own grandchildren, we will go one step farther and take this book and look for these things on our nature walks!  
The Author of the book is Rachel Line, a 6th grade teacher from North Dakota.
Rachel has a Bachelor of Arts in Elementary Education and an MBA in Teaching and Technology. Her sister,  Allison Limke was working for the Pella Historical Society as assistant director at the time Rachel wrote the story. You will read more about Rachel  in the link and book review to the right. 
The Pella Historical Village has a life-size dugout  sod house on display with a wonderful recorded narration by historian Ron Rietveld telling about the Dutch settling in Pella and the challenges faced in providing shelter before the first winter.   
A Place to Call Home is available the the Pella Historical Society Gift shop!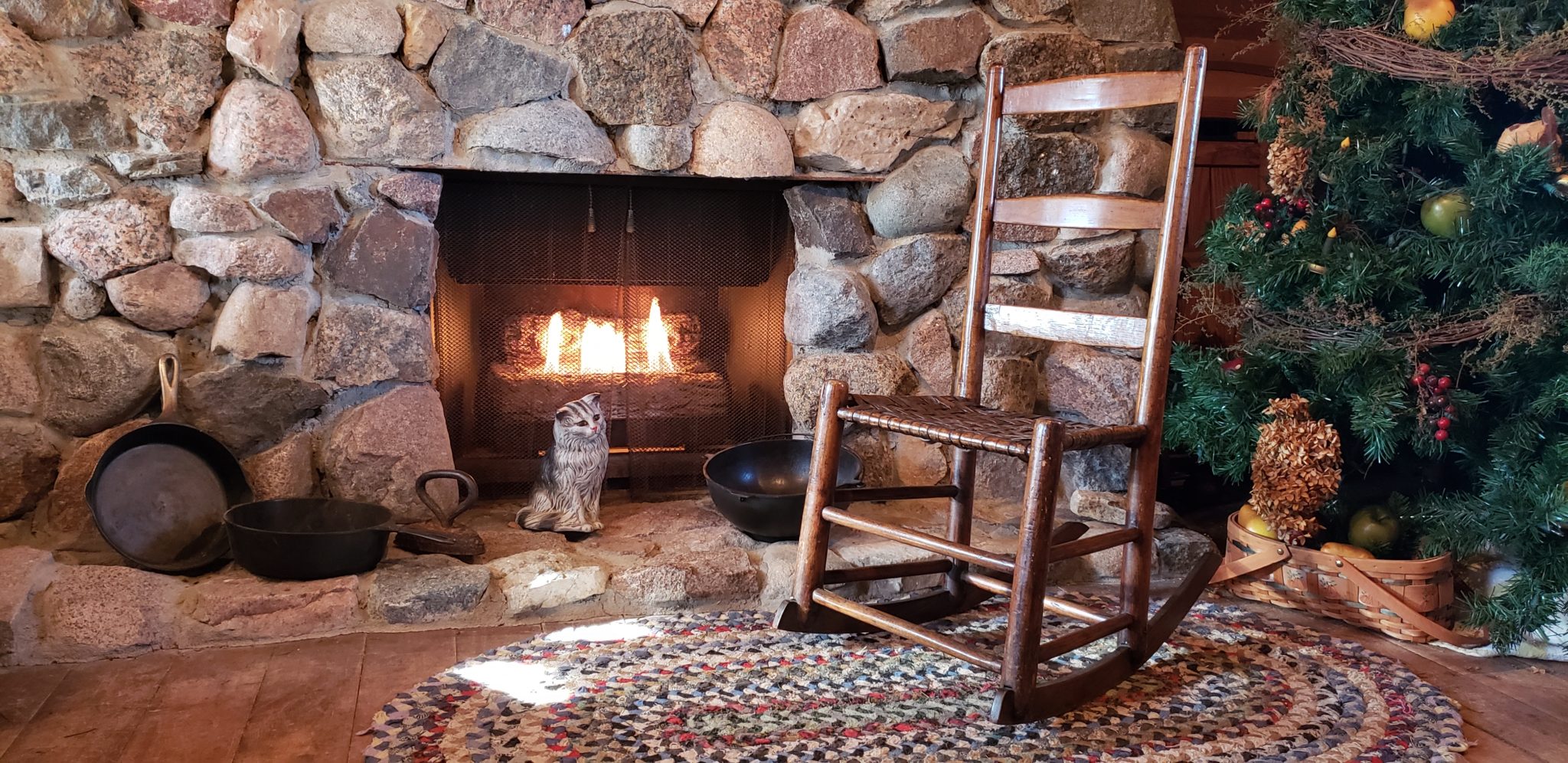 Sallie DeReus recently donated a family heirloom rocking chair to Tuttle Cabin. Tuttle Cabin is the first homestead in Marion County in 1843. 
 I can just imagine the early settlers mending clothing or rocking a child to sleep in this chair. Thank you for the donation Sallie! 
Support  Historic Pella Trust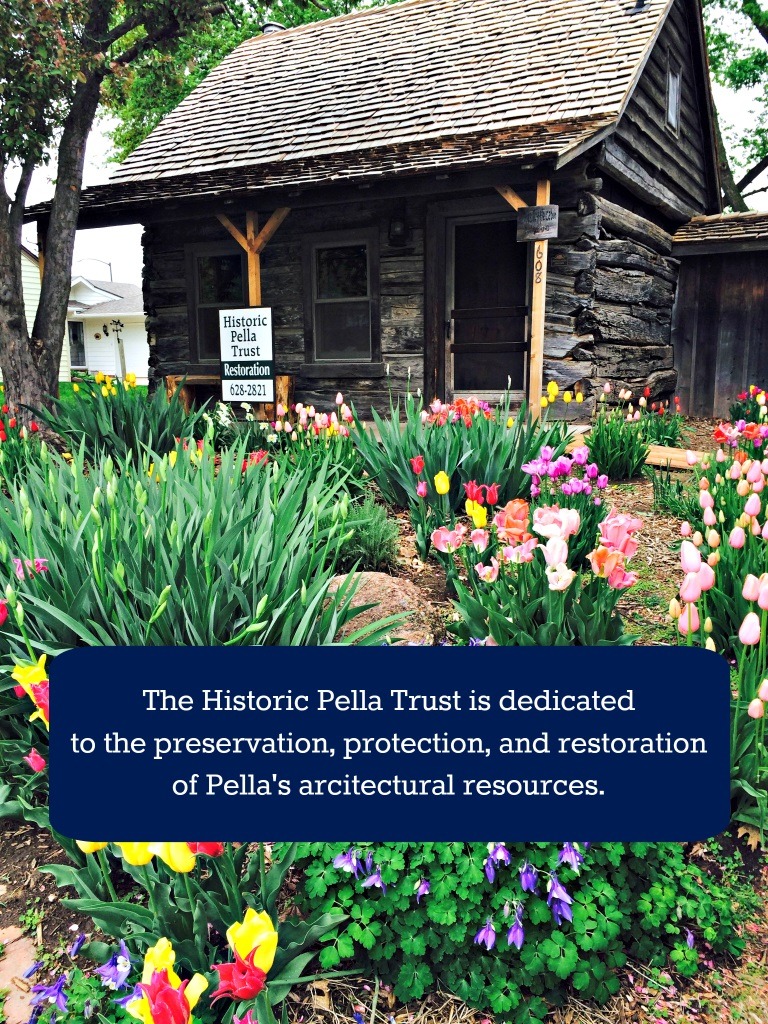 If you enjoyed this post and would like to help with future Historic Pella Trust projects please consider making a donation.
Contributions to the Historic Pella Trust are critical to preserving the rich and storied heritage of Pella and its architecture.
To make an online donation, please go to the Membership and Donations page.