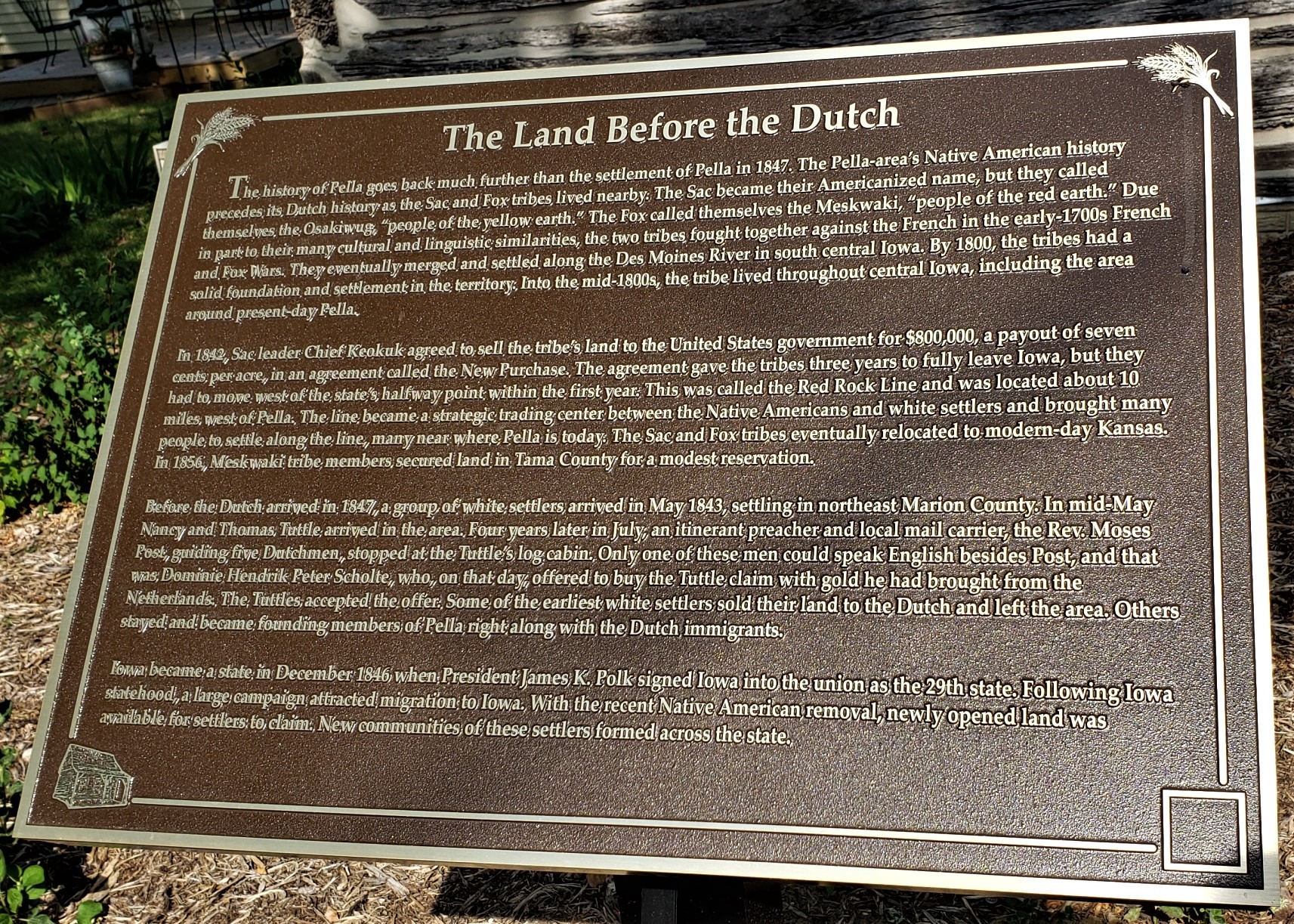 The history of Pella goes back much further than the settlement of Pella in 1847. The Pella-area's Native American history precedes its Dutch history as the Sac and Fox tribes lived nearby. The Sac became their Americanized name, but they called themselves the Osakiwug, "people of the yellow earth." The Fox called themselves the Meskwaki, "people of the red earth." Due in part to their many cultural and linguistic similarities, the two tribes fought together against the French in the early-1700s French and Fox Wars. They eventually merged and settled along the Des Moines River in south central Iowa. By 1800, the tribes had a solid foundation and settlement in the territory. Into the mid-1800s, the tribe lived throughout central Iowa, including the area around present-day Pella.
In 1842, Sac leader Chief Keokuk agreed to sell the tribe's land to the United States government for $800,000, a payout of seven cents per acre, in an agreement called the New Purchase. The agreement gave the tribes three years to fully leave Iowa, but they had to move west of the state's halfway point within the first year. This was called the Red Rock Line and was located about 10 miles west of Pella. The line became a strategic trading center between the Native Americans and white settlers and brought many people to settle along the line, many near where Pella is today. The Sac and Fox tribes eventually relocated to modern-day Kansas. In 1856, Meskwaki tribe members secured land in Tama County for a modest reservation.
Before the Dutch arrived in 1847, a group of white settlers arrived in May 1843, settling in northeast Marion County. In mid-May Nancy and Thomas Tuttle arrived in the area. Four years later in July, an itinerant preacher and local mail carrier, the Rev. Moses Post, guiding five Dutchmen, stopped at the Tuttle's log cabin. Only one of these men could speak English besides Post, and that was Dominie Hendrik Peter Scholte, who, on that day, offered to buy the Tuttle claim with gold he had brought from the Netherlands. The Tuttles accepted the offer. Some of the earliest white settlers sold their land to the Dutch and left the area. Others stayed and became founding members of Pella right along with the Dutch immigrants.
Iowa became a state in December 1846 when President James K. Polk signed Iowa into the union as the 29th state. Following Iowa statehood, a large campaign attracted migration to Iowa. With the recent Native American removal, newly opened land was available for settlers to claim. New communities of these settlers formed across the state.