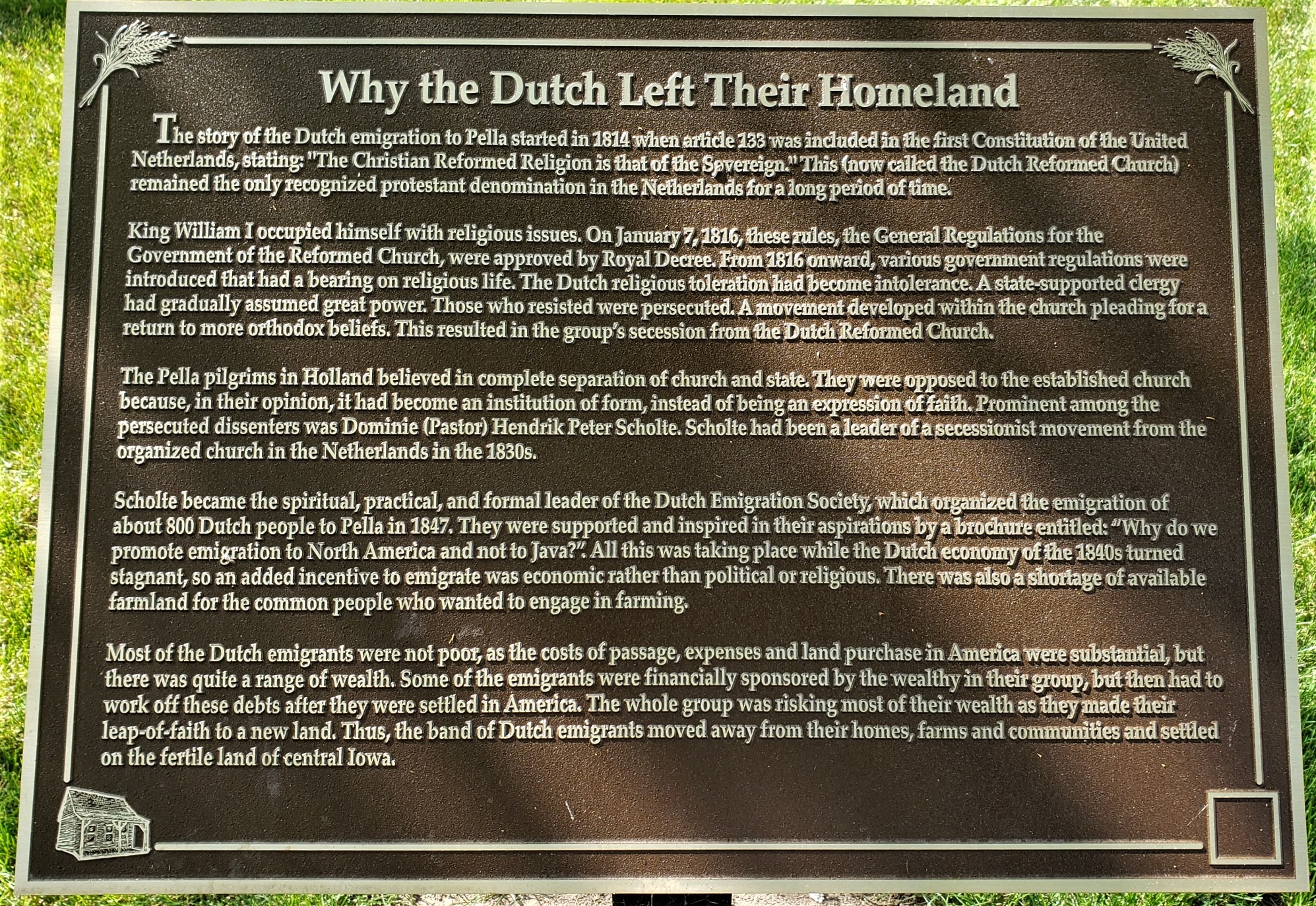 The story of the Dutch emigration to Pella started in 1814 when article 133 was included in the first Constitution of the United Netherlands, stating: "The Christian Reformed Religion is that of the Sovereign." This (now called the Dutch Reformed Church) remained the only recognized protestant denomination in the Netherlands for a long period of time. 
King William I occupied himself with religious issues. On January 7, 1816, these rules, the General Regulations for the Government of the Reformed Church, were approved by Royal Decree. From 1816 onward, various government regulations were introduced that had a bearing on religious life. The Dutch religious toleration had become intolerance. A state-supported clergy had gradually assumed great power. Those who resisted were persecuted. A movement developed within the church pleading for a return to more orthodox beliefs. This resulted in the group's secession from the Dutch Reformed Church. 
The Pella pilgrims in Holland believed in complete separation of church and state. They were opposed to the established church because, in their opinion, it had become an institution of form, instead of being an expression of faith. Prominent among the persecuted dissenters was Dominie (Pastor) Hendrik Peter Scholte. Scholte had been a leader of a secessionist movement from the organized church in the Netherlands in the 1830s. 
Scholte became the spiritual, practical, and formal leader of the Dutch Emigration Society, which organized the emigration of about 800 Dutch people to Pella in 1847. They were supported and inspired in their aspirations by a brochure entitled: 'Why do we promote emigration to North America and not to Java?'. All this was taking place while the Dutch economy of the 1840s turned stagnant, so an added incentive to emigrate was economic rather than political or religious. There was also a shortage of available farmland for the "common people" who wanted to engage in farming. 
Most of the Dutch emigrants were not poor, as the costs of passage, expenses and land purchase in America were substantial, but there was quite a range of wealth. Some of the emigrants were financially sponsored by the wealthy in their group, but then had to work off these debts after they were settled in America. The whole group was risking most of their wealth as they made their leap-of-faith to a new land. Thus, the band of Dutch emigrants moved away from their homes, farms and communities and settled on the fertile land of central Iowa.