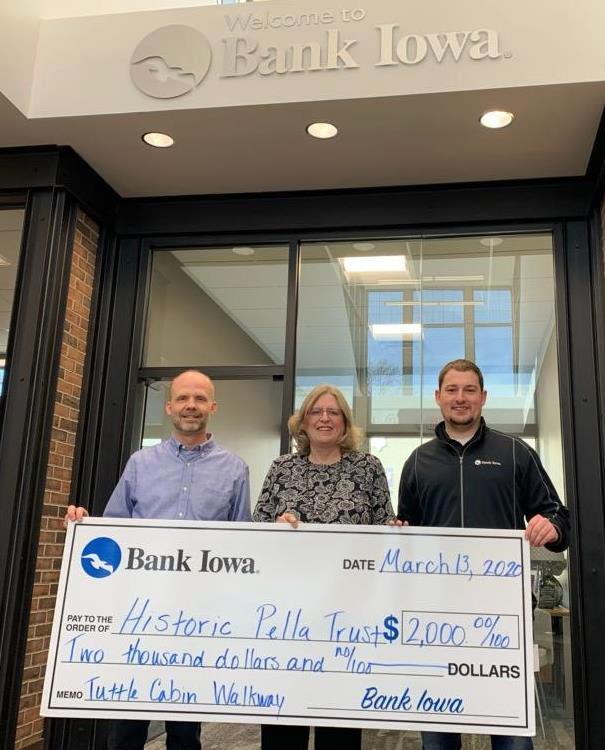 Tuttle Learning Walk Project receives $2000 donation from Bank Iowa! Thank you Mike Maakested,  Brady Van Kooten and the Bank Iowa team for giving us some sunshine during a stressful COVID 19 time.
The Tuttle Learning Walkway is a partnership with the City of Pella to provide an entertaining way for children, adults and visitors to learn about Pella's history and heritage through signage and plantings. The walk links two historic landmarks, 1843 Tuttle Cabin and Sunken Garden Park and Windmill. Tuttle Cabin is located at 608 Lincoln Street and the walk is being built on a vacated grass alleyway that is beside the cabin that leads to Sunken Garden Park. It is interesting that the historic park pond once served as a cooling pond for Pella's first electric plant. Visitors will find informational signs to read along the Learning Walk, for people with smart phones, some of the signs will include QR codes to scan for additional history and photos
 The Learning Walk project is divided into 3 phases, Phase 1 is the land prep and pathway; Phase 2 is the signage and Phase 3 is the landscaping and plants. The plants will be contributed through the support of the Pella Garden Club. Construction of phase 1 is scheduled to begin by April as soon as weather permits.   Phase one includes the brick path and limestone outcroppings at the bid price of $107,000. Historic Pella Trust is fundraising for the total cost of $195,000 to build this educational project that will be owned and maintained by the City of Pella. We thank multitude of members, foundations, businesses and memorials who have brought this project to a starting reality, more contributions are vital to finish the final phases of project in 2020.