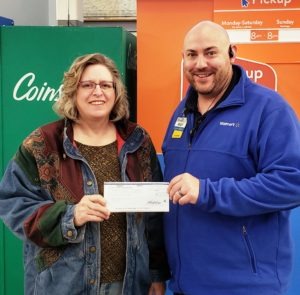 Pella Walmart awarded a $1000 grant to Historic Pella Trust for the Tuttle Learning Walk on April 11, 2019. 
Store manager, Andy Oleary and  HPT Executive Director, Jennifer VanKooten visit about the upcoming Tuttle Learning Walkway project along with ways that Walmart volunteers can partner with HPT in upcoming historic projects. 
 The City of Pella and Historic Pella Trust are currently working with Klingner and Associates on the planning and engineering of the project.
The walkway will connect Historic Tuttle Cabin to Sunken Garden Park through a meandering sidewalk project.  Some of the features being considered include six engraved signs telling the early history of Pella. These signs may contain QR technology that would allow the reader to use their smart phone to access more photos and history.
The walkway will feature natural  limestone outcrops and retaining walls to  reflect the many limestone mines that existed by Pella in the past and present. 
Current plans feature a six foot wide, curving walkway leading between the two historic landmarks.  The walkway material is being reviewed  and the Trust is considering a stamped textured concrete that switches textures in the history period before the Dutch arrived and after they arrived. Other considerations is using real brick verses textured concrete.  
The above feature considerations will be decided by mid May, after Tulip Time. 
 Historic Pella Trust is raising 100% of the funds to build this city owned walkway. Additional fundraising is taking place to landscape the front entry and pathways leading to Tuttle's porch.